Welcome to our 'Aussie' take on all things Christmas and beyond.
Long ago, in a land far away from pilgrims and the Thanksgiving story we all know from America, a whole lot of Germans gave thanks…. In October!


This is the story of the Erntedankfest ("harvest thanksgiving festival")

Erntedankfest, The ancient festival day complete with Parades and pumpkins!
Typically celebrated in rural areas, a church service would be followed by a procession through the streets. Elaborately dressed townsfolk would parade through the center of town with pumpkins, fruit and flags. Music was always a staple part of these celebrations as was a feast!

In some parts, a 'Harvest Queen' would be crowned for the day Some towns would hold an additional lantern parade in the evening with bonfires and even fireworks!

The 'Harvest Crown' (Erntekrone) is a common decoration in towns and churches at this time of year. Typically made from wheat and grain, it symbolises a good harvest. Other common decorations will be very familiar to you all, particularly the abundance of pumpkins in every shape and size.

In the lead up to the celebrations, many parts of Germany also hold events, like one of the world's largest pumpkin festivals in Ludwigsburg where sculptures can come in the form of sand or vegetable. It is an amazing place to visit in September/October, if you ever get the chance…

Use the arrows below to view some pumpkin sculptures from this year's Pumpkin Festival: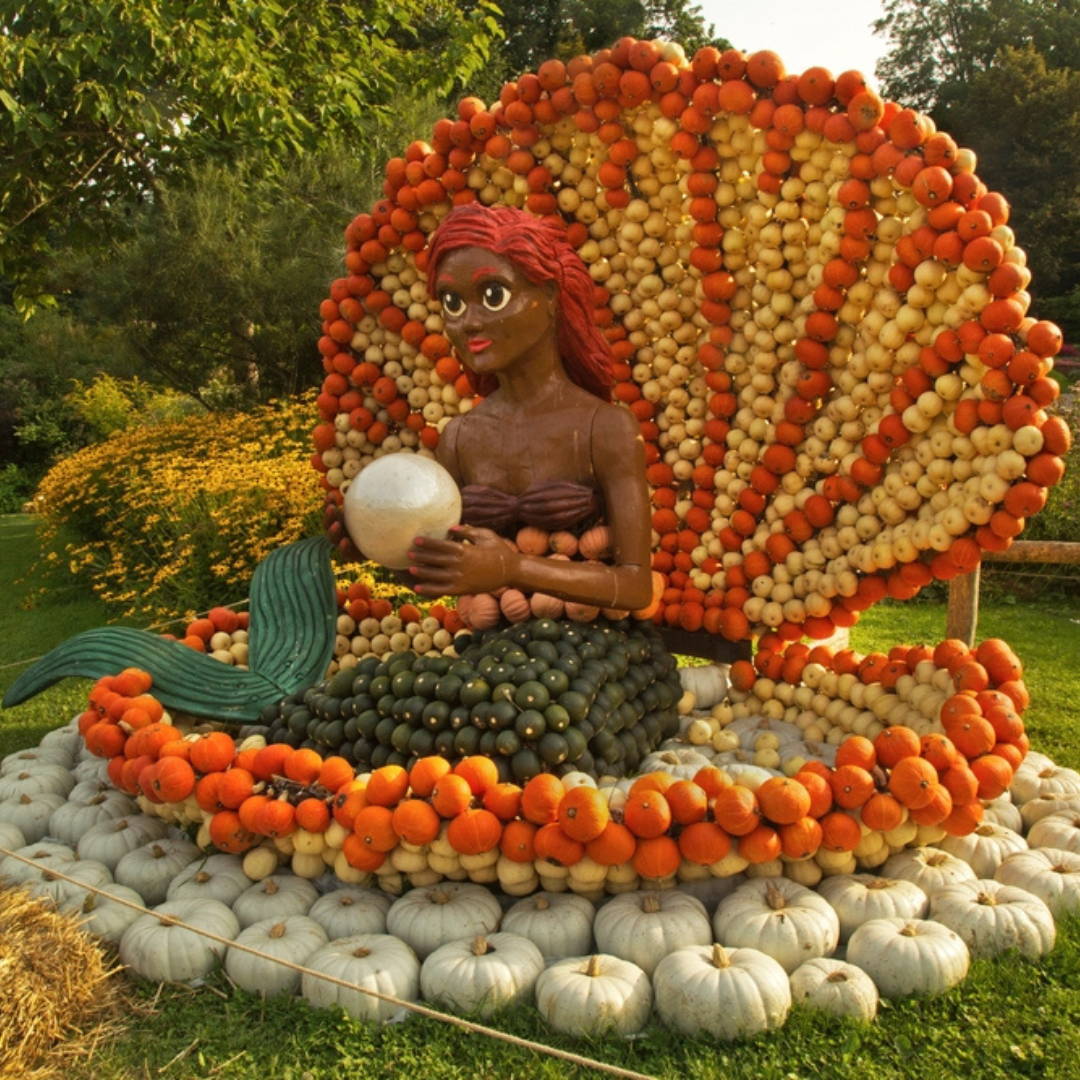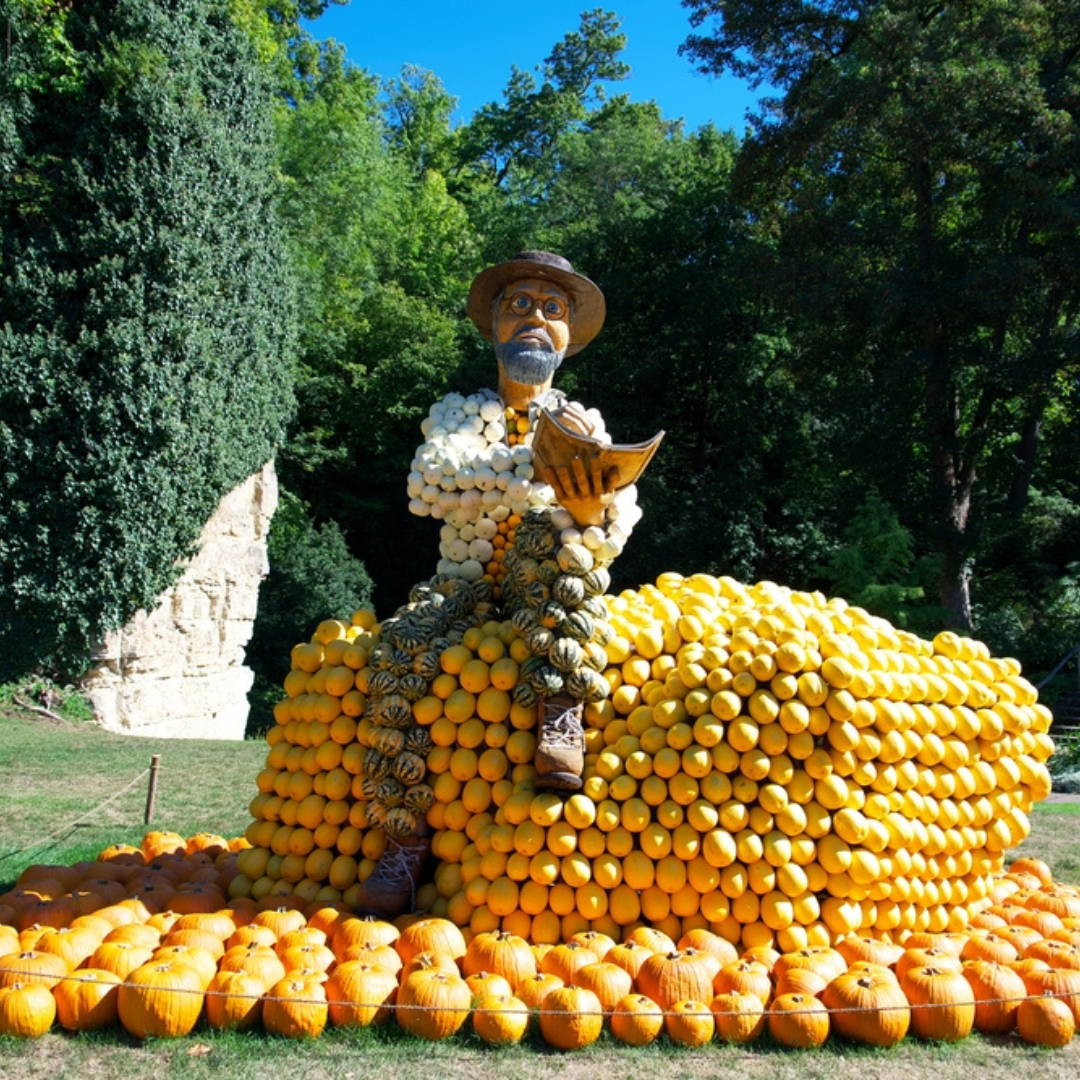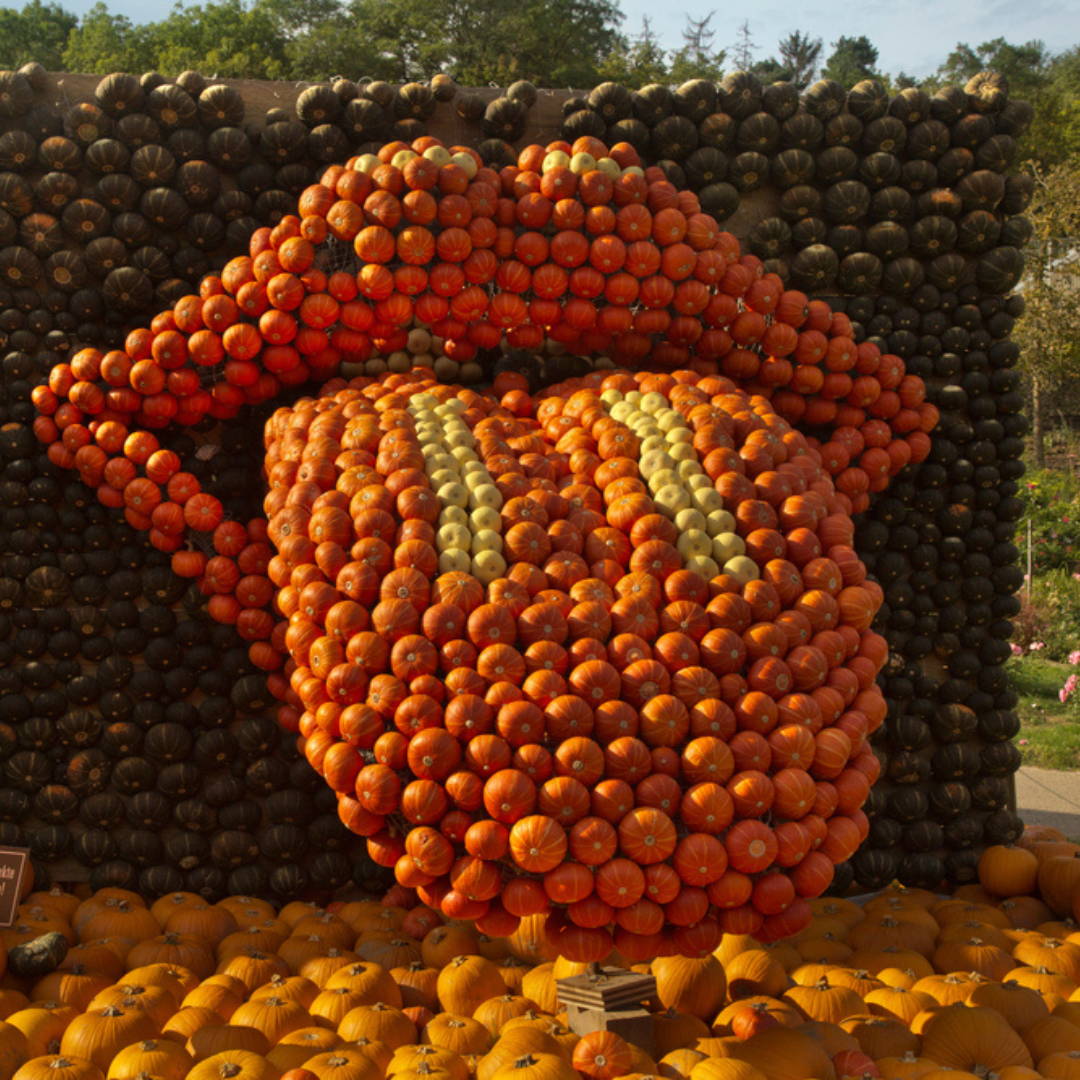 Elaborately dressed townsfolk would parade through the center of town with pumpkins, fruit and flags...
Similar to Thanksgiving in the USA... but different...
The German celebration does have some similar threads to what we know about Thanksgiving in the USA (feasts, parades etc) but it isn't quite the same.

Having lived in both countries for both kinds of Thanksgiving, the German version is definitely NOT as grand or as family-focused as our American holiday. While there is a focus on abundance, food and drink for some, most Germans do not specifically celebrate this holiday. There is no giant feast and definitely no Black Friday sales.

In more recent times, 'Erntedankfest' now coincides with German Unity Day. It is a major public holiday celebrating the reunification of Germany following the fall of the Berlin Wall. today concerts, fireworks and feasts are more widespread than ever before with this celebration falling on October 3rd.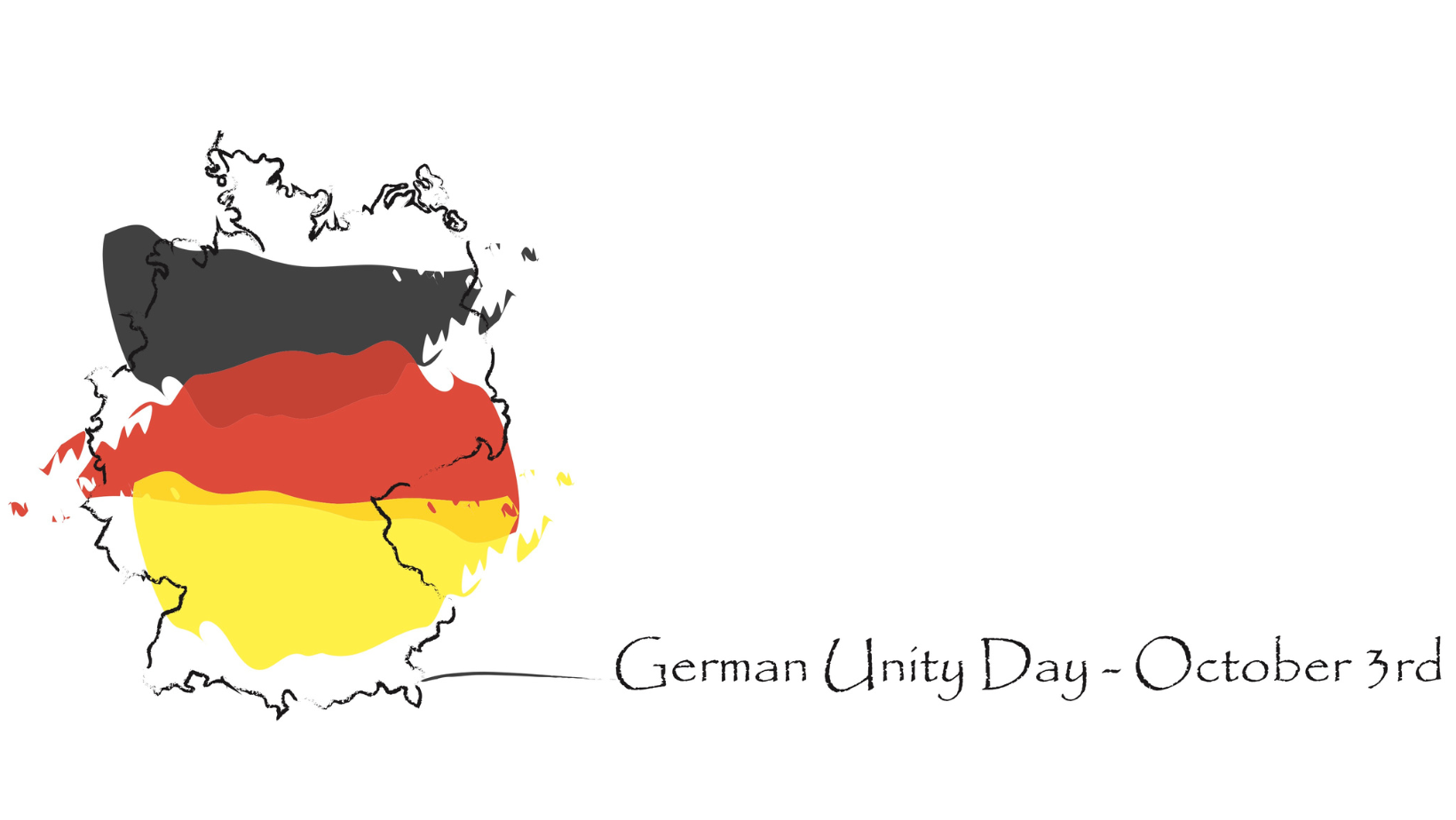 Visiting Germany at this time...
Don't let the cooler weather put you off, Germany in Autumn is wonderful! The changing leaves make town and villages seem even more pitcuresque... It is one of our favourite times of year to visit.

If you happen to be in Germany at any time in Autumn, one thing is pretty special. Almost every restaurant worth its salt will have a special 'Herbst' (Autumn) menu where Kurbis (Pumpkin) and Pute (Turkey) are staples. They really know how to celebrate the changing seasons (a novel thing for most Aussies as there aren't always distinct season changes like in Europe or elsewhere).

German Thanksgiving comes AFTER and is different to Oktoberfest...

Oktoberfest is celebrated in Bavaria in September. It is a festival that celebrates the coming of the harvest in October (hence the name). For most Germans it is a non-event as it is really only celebrated in one state.

Erntedankfest (German Thanksgiving) is what comes after, it is a way to give thanks for food, family and everything the year has given us.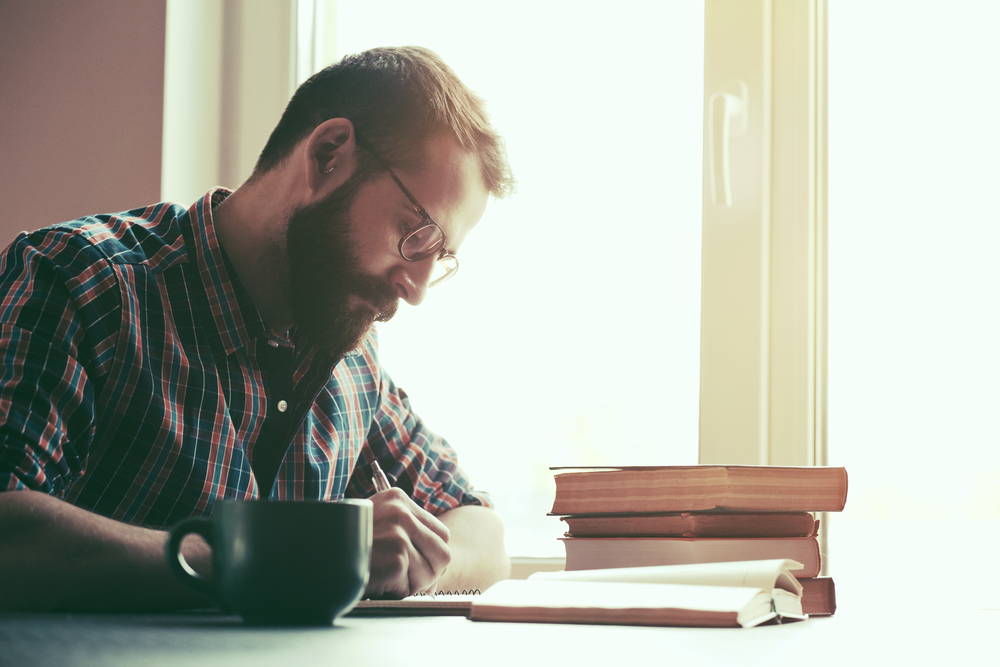 We hope that you have enjoyed this little peak into some German traditions. Here at the German Christmas Shop, we love sharing a few fun facts about the land that makes our gorgeous decorations.
As a family run business, we are so thankful to be part of a larger story, preserving traditional European craftsmanship in a world where a lot of things seem to be mass-produced and cheaply made. The quality of our items, the work of our artisans comes from having such a rich history and tradition behind them.
Someone who loves the way we all celebrate the Holidays and create memories together...
---
Sign up to hear about the latest news and exclusive offers
---
---
0 comments